Abe Carrillo (Chairman)
Director, Inclusiveness & Diversity
Herman Miller, Inc.
Abe Carrillo collaborates with the organization's leaders and many functional areas across the company to champion the corporate inclusiveness strategy. His responsibilities include leading the company's award winning supplier diversity program, overseeing eleven global ERG's, implementing inclusive workplace strategies, and connecting these efforts with brand outreach to diverse markets. He also launched and directs the Herman Miller Academy, a career exploration and talent retention program designed to prepare local high school students for the workforce.
He is active in the community as chair of the Herman Miller Foundation's Education Giving Board and serves on the boards of NHHC (National Hispanic Corporate Council), MMSDC (Michigan Minority Supplier Development Council) and GAAH (Grandville Avenue Arts & Humanities).
Diana Alvarez (Secretary)
Senior Occupational Health Manager
Hyatt Hotels Corporation
Ms. Alvarez is currently responsible for directing key workers' compensation initiatives for Hyatt Hotels Corporation for the Midwest Region. Diana works through many lines of business with a particular focus in human resources. With human resources, Diana partners with the teams to strategize on the management of worker's compensation claims including those relating to return to work challenges, cost containment and oversight of medical management. She also supports Hyatt's hotels throughout the United States to ensure compliance with federal and state OSHA rules in addition to many ongoing safety initiatives. In 2015 she took on the role of Chairperson for the newly formed Latino Diversity Business Resource Group.
Prior to joining Hyatt in 2004, Ms. Alvarez utilized her Nursing skills in various settings that included an inpatient Oncology unit, managing a Maternity Clinic, Occupational Health Nurse for a candy manufacturing plant, field case management for a large insurance carrier and medical office duties in a spine surgery practice.
Diana is currently on the Board of Directors for the Illinois Self Insurers Association, The Illinois Workers' Compensation Commission Medical Fee Advisory Board and is actively involved with both the Illinois and Chicagoland Chambers of Commerce in the Employment Law Group.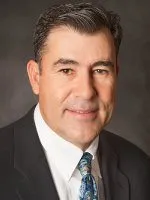 Miguel S. Gonzalez (Treasurer)
Director, Human Resources
Electronics & Information Solutions
The Boeing Company
Miguel S. Gonzalez is the Director of Human Resources for The Boeing Company's Government Operations office in Washington, DC. Gonzalez is responsible for leading a human resources team that supports Government Operations throughout the U.S. in talent acquisition and development and implementation of enterprise-wide human resources services.
Previously Gonzalez served as Senior Human Resources Manager for Boeing Military Aircraft Vertical Lift in Mesa, AZ. In this role, he oversaw efforts to align human resources strategies with business initiatives. During this time, he also directed the implementation of a performance-based pay practice for non-salaried workers.
Gonzalez has extensive knowledge in Global Diversity and Employee Rights practices and experience leading the implementation of affinity groups and affirmative action programs in business organizations. He also has led the development of leadership courses for new managers.
Gonzalez holds a Bachelor of Science in Justice Studies from Arizona State University, Tempe, AZ.
Guadalupe (Lupe) Alcala, CPCU, CLU
(Immediate Past Chair)
Assistant Vice President, Administrative Services
State Farm Insurance
A leader in developing employees and advancing the needs of the Hispanic community.
Lupe Alcala began her career with State Farm as an Auto Field Claim Representative in Moline, Illinois. Throughout her 17 years with the company, she has held various leadership roles including Auto Claim Central Team Manager for the first-ever Language Advantage team in Illinois where she led a team to provide premier in-language assistance to Spanish speaking customers.
She is active in her community and currently sits on the National Hispanic Corporate Council Board of Directors as the elected representative for State Farm Insurance.
Maria D'Ambrosio
Executive Director, Office of Diversity and Inclusion Services
American Red Cross National Headquarters
Maria D'Ambrosio has held the position of Executive Director, Corporate Diversity at the American Red Cross since February 2013. In this role, Ms. D'Ambrosio is responsible for working collaboratively with business unit leads in development and subsequent implementation of diversity and inclusion strategies and action plans. Additionally, she is responsible for leading and implementing enterprise-wide diversity and inclusion strategies that align with the organizational goals, objectives and overall strategic priorities of the American Red Cross. D'Ambrosio is a key member and contributor of the American Red Cross National Diversity Advisory Council (NDAC) and leads efforts to build long-term relationships and partnerships with various diverse community organizations and agencies that can support the Red Cross mission and organizational priorities.
Prior to working with the American Red Cross, Ms. D'Ambrosio was the Senior Director, Inclusion & Diversity at Choice Hotels International, Inc. While there, she was responsible for design, execution and promotion of the company's corporate-wide inclusion and diversity strategy focused on achieving business goals. Ms. D'Ambrosio created programs and processes designed to drive inclusive thinking, capabilities, and behaviors throughout all levels of the organization. She gained experience consulting with leaders on implementing programs and on developing measures to drive diversity and inclusion in their areas or units.
Ms. D'Ambrosio was responsible for launching Choice Hotels' employee resource groups as well as its Diversity Advisory Council chaired by the CEO. She also created and implemented the company's first diversity training currriculum. Additionally, she implemented action plans and accountability for senior level managers and leaders. Added to her responsibilities, was management of employee engagement initiatives and surveys to measure impact.
During her 15 year tenure at Choice Hotels, Ms. D'Ambrosio also held positions as Director, Organizational Development & Learning, Manager of Diversity & Corporate Engagement and Marketing Specialist. These positions gave her experience with the company's learning and development strategy, its charitable foundation, and its marketing team.
Ms. D'Ambrosio has a degree in Management Studies from the University of Maryland University College. She has served on a number of local non-profit boards including the Multicultural Foodservice & Hospitality Alliance and the International Franchise Association Diversity Institute Board, where she served as Second Vice Chair.
Terry C. Deas
Director of Diversity & Outreach
Cracker Barrel Old Country Store
An expert diversity and outreach strategist, actively involved in the greater civic and corporate community.
Terry Deas is responsible for leading the company's overall diversity and outreach strategies. Before joining the company in 2012, Terry served as Director of Diversity & Inclusion at Ceridian Corporation where he was responsible for all aspects of the company's Diversity & Inclusion (D&I) strategy. He also worked in a variety of leadership and management positions at Hewlett-Packard and the Allegis Group.
Mr. Deas is actively involved in the greater civic and corporate community. He is a member of the Cracker Barrel Foundation Board of Directors and the Georgia and Texas NAACP Corporate Advisory Board. He is a also member of Kappa Alpha Psi Fraternity Inc. and the Monitors Club. From 2009 to 2010 Terry served on the board of the House of Charity, a non-profit in Minneapolis, MN that provides food, shelter, and assistance for individuals in need.
Roger Guzman, SHRM-CP
Manager of Global Diversity and Inclusion
The TJX Companies, Inc.
Roger partners with the senior Human Resources team and functional leaders to develop the best global approach to Diversity and Inclusion across TJX that reinforces the commitment to an inclusive culture.
Roger is responsible for developing and implementing strategic initiatives for Global Diversity and Inclusion at the enterprise level that align with the company's business priorities. This responsibility aligns perfectly with the work Roger has done throughout his professional career at both State Farm Insurance Companies and Walmart. Roger has held leadership responsibilities in various resources groups with his previous companies. In the past, Roger has been responsible for developing strategies and plans to implement company priorities with a variety of community groups.
Roger is involved in the community and has also been involved with NHCC at a former chair of the Education Committee and chair of various subcommittees helping to design NHCC summits.
Brian K. Hall
Manager – Supplier Diversity & Outreach, Small Business Officer
Shell
A small business liason who brings the needs of minority communities to the forefront through supplier diversity and outreach.
Brian Hall is responsible for Supplier Diversity, Diversity Outreach and serving as the Small Business Liaison for Shell and Motiva Enterprises in the US.
Brian leadership expands into the community through volunteer roles with various organizations, including 13 years as Board Vice President of Theta Chi Fraternity, Lifetime Member of the Houston Livestock Show & Rodeo, as well as Founder and President of FridayHarbour.org, a Houston based non-profit organization providing free temporary housing for cancer patients/families seeking treatment in the Texas Medical Center.
Tomás Leal
Inclusion Strategy Lead, R&D Strategy & Portfolio
GlaxoSmithKline (GSK)
Tomás Leal is the Director of Inclusion and Diversity in the Equality and Inclusion Center of Excellence at GlaxoSmithKline (GSK). He leads and consults across and within global businesses on the development and execution of Inclusion and Diversity strategies to support workforce planning initiatives and create inclusive, high performing work environments.
Prior to this, for the past 17 years, Tomás has held Diversity & Inclusion roles in the U.S. and the UK with several companies including Amoco, Shell, British Petroleum, ITT Corporation and Microsoft. He has worked with business units in Europe/Middle East/Africa, Asia Pacific, Latin America, as well as, in North America. Working across global regions & businesses, Tomás has created D&I strategies, metrics and action plans that are locally relevant and meaningful, aligned with globally driven business strategies. His major focus areas have been in diverse global talent management, inclusion strategies and programs, cross cultural competency building and developing relationships with external organizations/communities worldwide. Before his corporate work, Tomás spent 19 years in higher education administration mainly in Student Life/University Affairs roles at various U.S. universities.
Tomás has degrees from the University of Texas at Austin and Indiana University-Bloomington. He also completed the Diversity Management Certification program from National Training Laboratories (NTL). He is active in several Latino community and professional organizations. Most recently, he has been elected to the Board of the National Hispanic Corporate Council (NHCC). He enjoys travel, reading and spending time with his life partner of 27 years.
Eduardo Mariscotti
Vice President of Human Resources
Walmart
Eduardo Mariscotti has been Vice President of Human Resources for Walmart US since February 2015. He is helping Walmart to focalize on Hispanic Associates and Customers. His efforts are helping the corporation to become more effective in the hiring, engagement, retention and development of Hispanic talent. Prior to his current role, he served as VP and Regional Ethics Officer of Walmart Latin America, and VP of International Compliance for Walmart International located in Arkansas. From 2011 to 2004, he was General Counsel of Walmart Argentina and member of the Walmart Argentina Executive Committee.
Eduardo is a lawyer graduated from the University of Buenos Aires. He has a Master of Law (LLM) in International Business Law from the University of London in England. He holds an MBA from the University of Belgrano in Buenos Aires. He graduated from the Lee Iacocca Leadership Program for Future Leaders in Business and Industry at Lehigh University (USA) and he took the Management Program for Lawyers at Yale School of Business in 2007. He is certified as Ethics and Compliance Professional from the two biggest US Ethics and Compliance Organizations (ECOA and SCCE).
Prior to joining Walmart, Eduardo worked for Baker & McKenzie in the Buenos Aires Office from 1992 to 1994. From 1996 to 1998 he practiced international law at Wilde Sapte Solicitors in London. He was Chief of the Legal Department of Cablevision, the biggest TV Cable Operator in Argentina from 1998 to 2003.
In 2001 in Argentina concerned by the difficult economic situation of the country, he founded and was President of a Group of Young Professionals called "Grupo Participar". From 2002 to 2005 the NGO organized more than 18 public and free conferences with the participation as speakers of more than 30 well known politicians, historians, philosophers, thinkers, academics, journalists, professors and economists that elevated proposals to improve Argentina's economy. More than 3,000 citizens participated in the conferences.
Salvador Mendoza
Vice President, Diversity & Inclusion
NBCUniversal
Salvador Mendoza is responsible for the development of short and long-term strategies in the areas of Workforce Development with a focus on enhancing the company diverse and inclusive culture; Community Investment by building and maintaining partnerships with diverse organizations and management of NBCUniversal employee resource groups, with over 30 chapters throughout the country.Among his many accolades, he has been recognized as one of Hispanic Business Magazine 100 Most Influential Hispanics, the Black Meetings & Tourism APEX Award for Distinguished Service, the Disability Champion Award and Chicago State University's Latino Alumni Award. Mendoza and his wife Nina have two children, Daniel and Vivian.
María Carlota Palacios, LCSW, M.A.
Community Relations
Williams
Professional Experience
Maria Carlota Palacios manages Williams' employee-driven philanthropic programs and grants in the southern states of Texas, Mississippi, Louisiana, Alabama, Georgia, South Carolina, and Florida. She executes philanthropic and grant programs that support business strategy, enhancing relationships, researching and recommending community engagement projects that would enhance Williams' relations and reputation with its customers and local communities.
Much of her time is spent establishing and cultivating relationships with local public officials, key stakeholders, identifying emerging issues and developing risk mitigation strategies as part of her community outreach. She supporting Williams' operating areas by meeting public relations needs, and providing capital project support, including responding to local media, local municipalities, non-governmental organizations, special interest groups and others as needed.
Palacios has served in many nonprofits organizations in the last 20 years. Currently, she is a volunteer at the Neighborhood Centers in Houston.
Maruiel Perkins-Chavis
Vice President, Workforce Engagement & Global Diversity
Marriott International, Inc.
One of the "Top 100 Executives in America" focused on managing world-wide workforce diversity.
Maruiel Perkins-Chavis is responsible for establishing the strategic direction, development, implementation and management of world-wide workforce diversity, work-life initiatives, engagement, and workplace programs. She has over twenty-five years experience in the human resources area with expertise in staffing, talent acquisition, leadership development, diversity, equal employment opportunity and affirmative action.
Mrs. Perkins-Chavis was instrumental in the design and execution of the Leadership Education Series, Women and Minority Leadership Talent Development Inventory, Leadership Development Workshops and Executive On-Boarding Program.
She is a member of the Society for Human Resource Management, serves on the Shambaugh Leadership Group Executive Advisory Council and National Hispanic Corporate Council (NHCC) Board. In 2007, she was presented with the first ever Dave M. Sampson Diversity Award for demonstrating diversity excellence. In 2009, she was selected as Working Mother of the Year by Working Mother Magazine and in 2012 UPTOWN Professional magazine selected her as one of the "Top 100 Executives in America".
Carolina Pulido
Director of Learning & Development
Delhaize America
Carolina Pulido is responsible for providing strategic leadership and direction to the Food Lion Family and Delhaize America Learning teams, including strategic project intake, resource planning/allocation, skills training, career development, and performance management.
She has participated actively in several professional and non profit organizations as Board member of the National Hispanic Corporate Council, former Board member of the Diversity Council of the Carolinas; founder and former President of the National Society for Hispanic Professionals – Charlotte Chapter, and member of ALPFA.
Manny Santos
Manny Santos is a three-time Emmy Award-winning bicultural & bilingual media professional with over twenty years of experience in Marketing, Advertising, Public Relations and Corporate Communications, as well as Television and Video Production & Distribution. He currently is a Divisional Vice President for PR Newswire. He oversees all sales and business development efforts for a wide portfolio of marketing, multimedia, broadcast and monitoring media solutions designed to distribute content that reaches and engages General Market and Multicultural audiences. From Fortune 500 corporations and non-profit organizations to Marketing & PR Agencies in the U.S. and Latin America, Mr. Santos provides creative strategic counsel, coordination and execution of interactive marketing and PR initiatives - in both English and Spanish - that combine traditional and emerging communication tactics driving brand awareness, engagement, and increased audience reach.
PR Newswire is the premier global provider of multimedia platforms that enable marketers and corporate communicators to leverage content in order to engage their key audiences. Having pioneered the commercial news distribution industry 60 years ago, PR Newswire today provides end-to-end solutions to produce, optimize and target content — from rich media to online video to multimedia — and then distribute content and measure results across traditional, digital, mobile and social channels. PR Newswire serves tens of thousands of clients from offices in the Americas, Europe, Middle East, Africa and the Asia-Pacific region, and is a Cision company.
Prior to his work in the Marketing and Public Relations fields, Mr. Santos worked as a Television Producer and Director. His TV production background ranges from news programs and documentaries to entertainment programming and commercials. Mr. Santos's extensive roster includes multiple productions for broadcast entities such as NBC, HBO, PBS, Univision Spanish Network and Madison Square Garden Network.
Mr. Santos is also a dynamic public speaker and moderator; he is sought after for his expertise in Media, content development and distribution, multimedia trends, video production for multiple platforms, as well as for innovative tactics and strategies in Marketing and Public Relations reaching diverse and Multicultural Markets.
A native of Bogotá, Colombia, Mr. Santos moved to the United States to pursue his university studies and graduated with a BA in Television / Film / Advertising from the University of Houston.